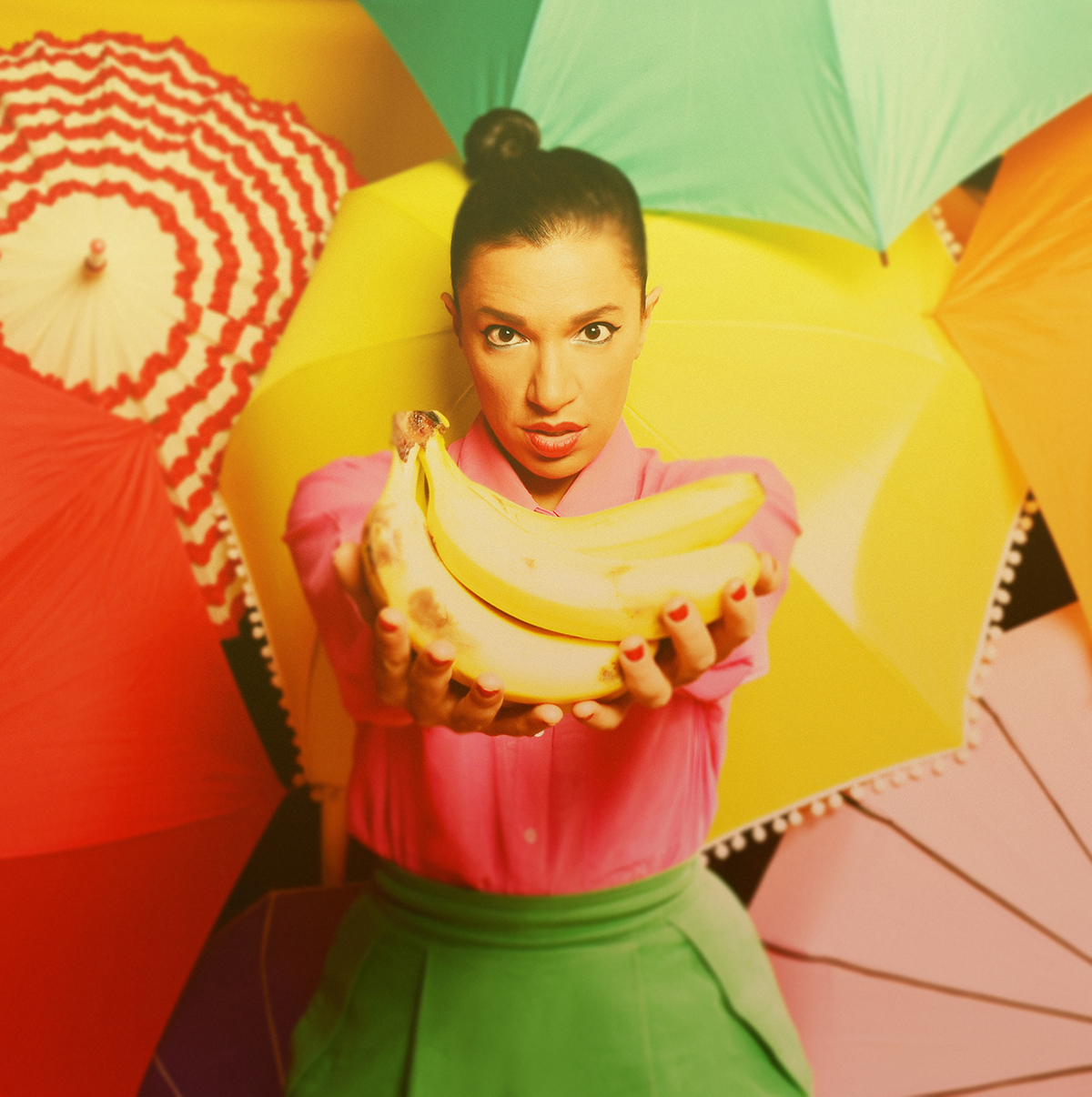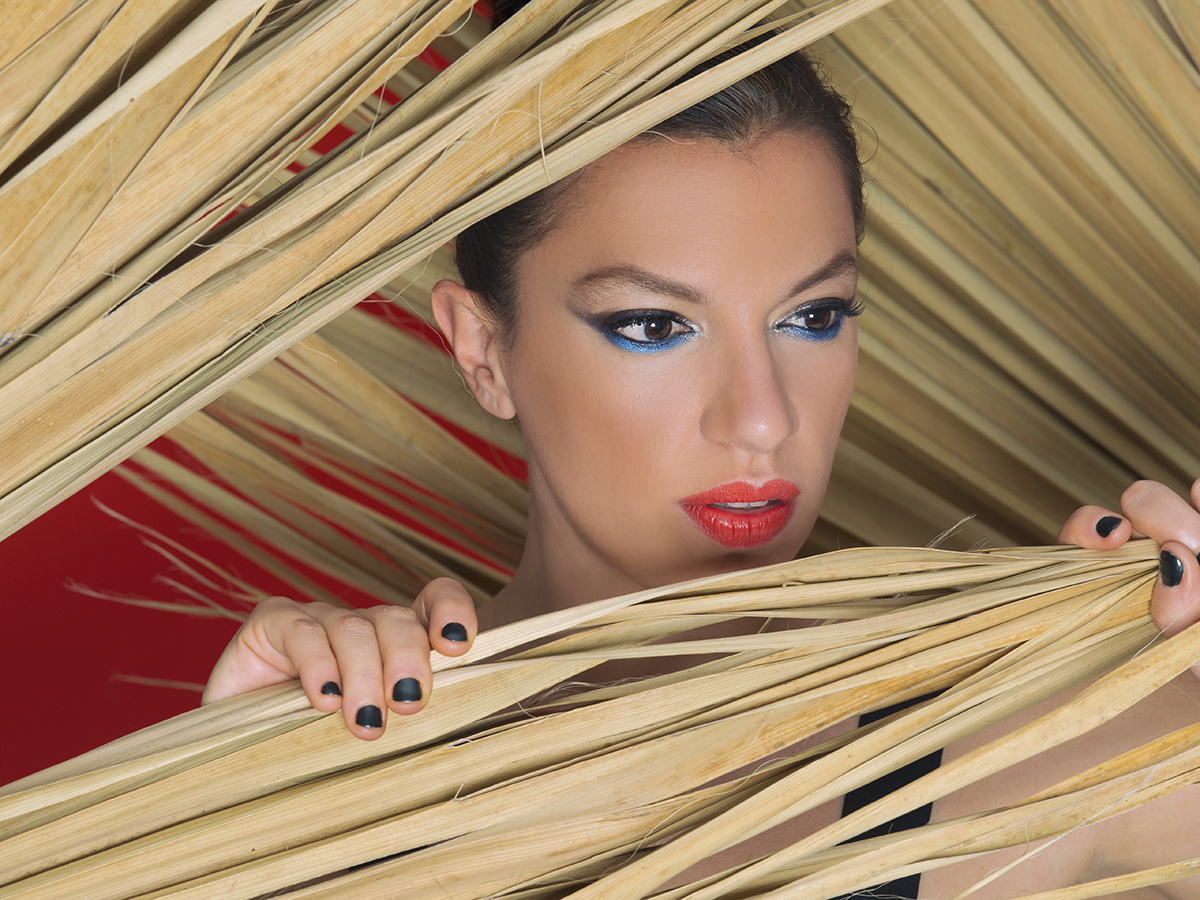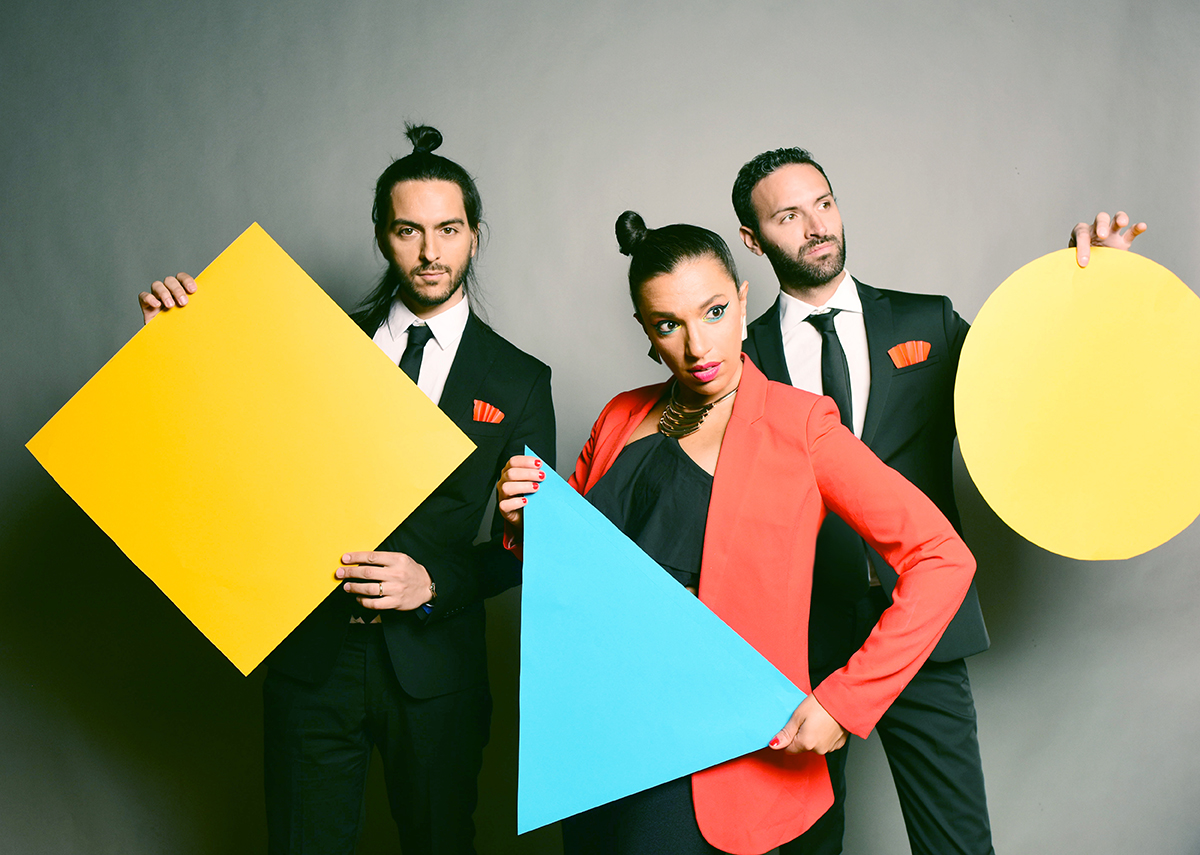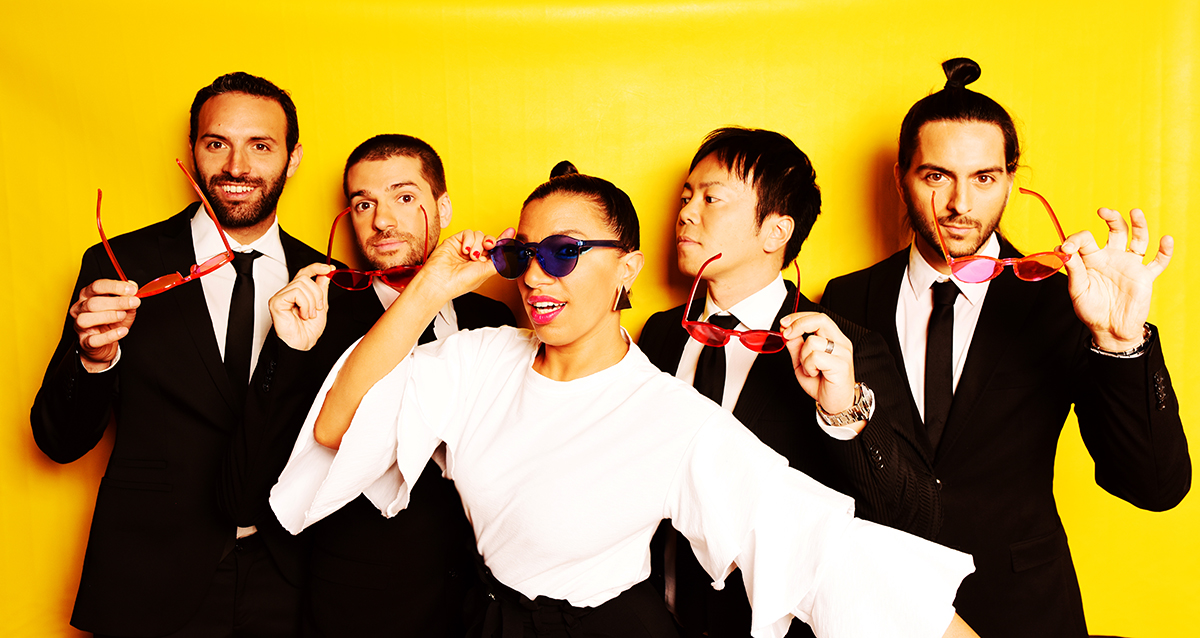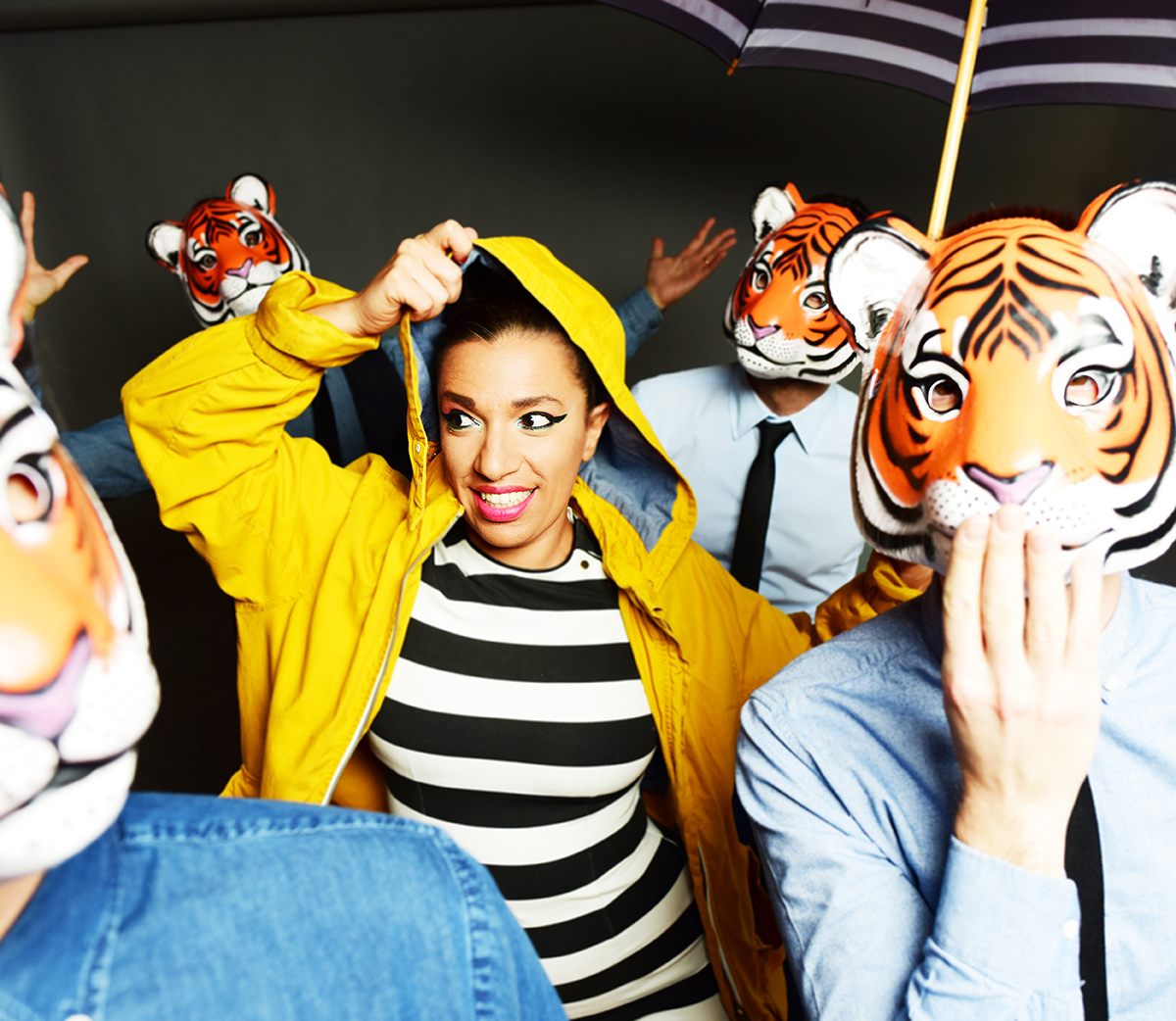 featuring...
Magda Giannikou Accordion, Voice, Bandleader
Marcelo Woloski Percussion
Andres Rotmistrovsky Bass
Ignacio Hernandez Guitar
Keita Ogawa Percussion
Mika Mimura Vibes
Justin Stanton Keys and Trumpet
Chris McQueen Guitar
Banda Magda
Bio
Tigre Burning Bright: Banda Magda's Cinematic Tales of Courage and Persistence
"An artist who fires on all artistic cylinders" -- NPR"fresh and retro-hip cool" -- KCRW
The lightbulb went on. Composer, multi-instrumentalist, and firecracker performer Magda Giannikou suddenly understood: The world needed more light, and she was determined to bring it.
That spark of insight, nurtured by a diverse, close-knit band, grew into the rainbow-bold meditations on courage, confidence, and resisting fear on Tigre, the band's third, wildly cinematic album. (September 15, 2017; Verve Label Group) A rallying cry to speak up and stand out, the album presents Giannikou's most coherent and brightly orchestrated work to date.
Luxuriant string sections and punches of brass, hammered dulcimer and tubular bells, meet maracatu and forro rhythms. Giannikou sings her tales in whatever language feels right, be it French, Greek, Spanish, or Portuguese. The polyglot, global influences meld, however, into breathtaking flights of fancy. "I've been surrounded by people from all over the world, my bandmates and collaborators," says Giannikou. "And the community we have built feels like a rocket of courage." On Tigre, that rocket growls to new heights of lush, unstoppable boldness.
When Giannikou began working on some of the earliest songs that became Tigre, her native Greece was facing a protracted crisis of economic agony. "It's no coincidence that I started writing these songs when the Greek economy collapsed," she recalls. "I saw my loved ones in pain. That called for a lot of courage. I was deeply affected."
Geopolitical factors mirrored the struggles in Giannikou's artistic life. "That pain back in Greece was paired with being far away, trying to make things happen in New York," recalls Giannikou. "The band was at a point where it had grown, but it was very fragile. I knew I had to push past this, and find a way forward."
Giannikou's response to this fragility was to come out roaring, pushing herself to realize her full musical vision. And vision is the precise word: Giannikou experiences sound and ideas via color, and a synesthetic approach informs her writing, arranging, onstage look, and album-related imagery.
For this album, for the first time, sound and vision carry a timely message: We all have fears and everyone has something that they need to overcome. We all need to draw on our courage to contribute, personally and as a community.
This message, Giannikou feels, is particularly vital for young artists to hear in these fraught, frightening times: " I feel like now, more than ever, the world needs us to be lights. Fear can cover up a beautiful soul, and the purpose of this album is to firstly encourage people to express their fears, learn about them, and then try to peel them off, one by one and reveal a beautiful, true, confident self. My message to youth is that everyone is by definition - unique. We should never be afraid of being ourselves." To do that, the formally trained composer and arranger went for the gusto.
Some of Tigre's brave new shades burst out of Giannikou's nine-piece string arrangements on songs like "Ase Me Na Bo," the first time she feels she's fully melded her orchestra background with her band's distinct palette. "In Tigre, the string section represents light, courage, optimism. Working on the arrangements has been one of the most time-consuming tasks in the project; I wanted it to be perfect," muses Giannikou. "One does not get many opportunities to write and conduct a string orchestra, and I wanted to make the most of it!"
The strings burst into full film score-ready glory, while sometimes they hang back creating rich atmosphere ("Tam Tam"). They add just a touch to the hip reimagination of a northeastern Brazilian forro number ("Vem Morena") or the ethereal tenderness of a ballad ("Thiamandi"). Sometimes, the strings become one set of voices in a complex, hocketting conversation between brass, campy vocal chorus, and madcap guitar ("Tigre Malin" and its soundtrack-worthy offshoots).
Each song, with its distinct sound, tells a different tale of fear and courage. In most, courage wins the day, as Banda Magda unpacks the different facets of hope, persistence, and confidence. Seemingly scattered loves and influences have merged for Giannikou, part of a personal transformation and a bigger movement among passionate listeners away from genre and toward discovery.
"The fact that it's getting harder and harder to categorize makes perfect sense. Globalization has transformed our sense of belonging from a solid color, to a mosaic. I am all about that. With every new touring destination, assumptions and expectations are weakened. I think confidence is relative to our environment, and that's why I encourage young people to cultivate a curiosity for the world, and travel, so that they can discover more avenues to a sense of belonging and fulfillment," she says.
It's no coincidence that the tiger stars on this album dedicated to confidence. It has prowled playfully through Giannikou's visual and musical worlds for years. What began as a joke turned into a potent symbol, the pivot of the story laid out in tracks like "Tigre Malin." After crafting a song in French, Giannikou wanted to make sure the story came through precisely. So she employed her sharpest scoring skills and tapped long-time friend and collaborator, Snarky Puppy's Michael League, to narrate an introductory piece in English. He was all about it: "Tigre is a badly-needed injection of joy, hope, and courage at a time when the world needs it more than ever," League notes.
Some of the album proceeds will be donated to the World Wildlife Federation, to protect the beasts that inspired it. Giannikou is working with her illustrator mother to create a children's book based on the track, as well.
"Tigre is a vessel of many things: the need to share my own fears to my fans, the work that we do as a band melding global music traditions, my passion for string-writing, my duty as an artist to be involved in education and local communities," reflects Giannikou. "Strong communities, where many voices are raised and heard, help us all. They can allow us all to make our biggest dream the compass of our everyday lives."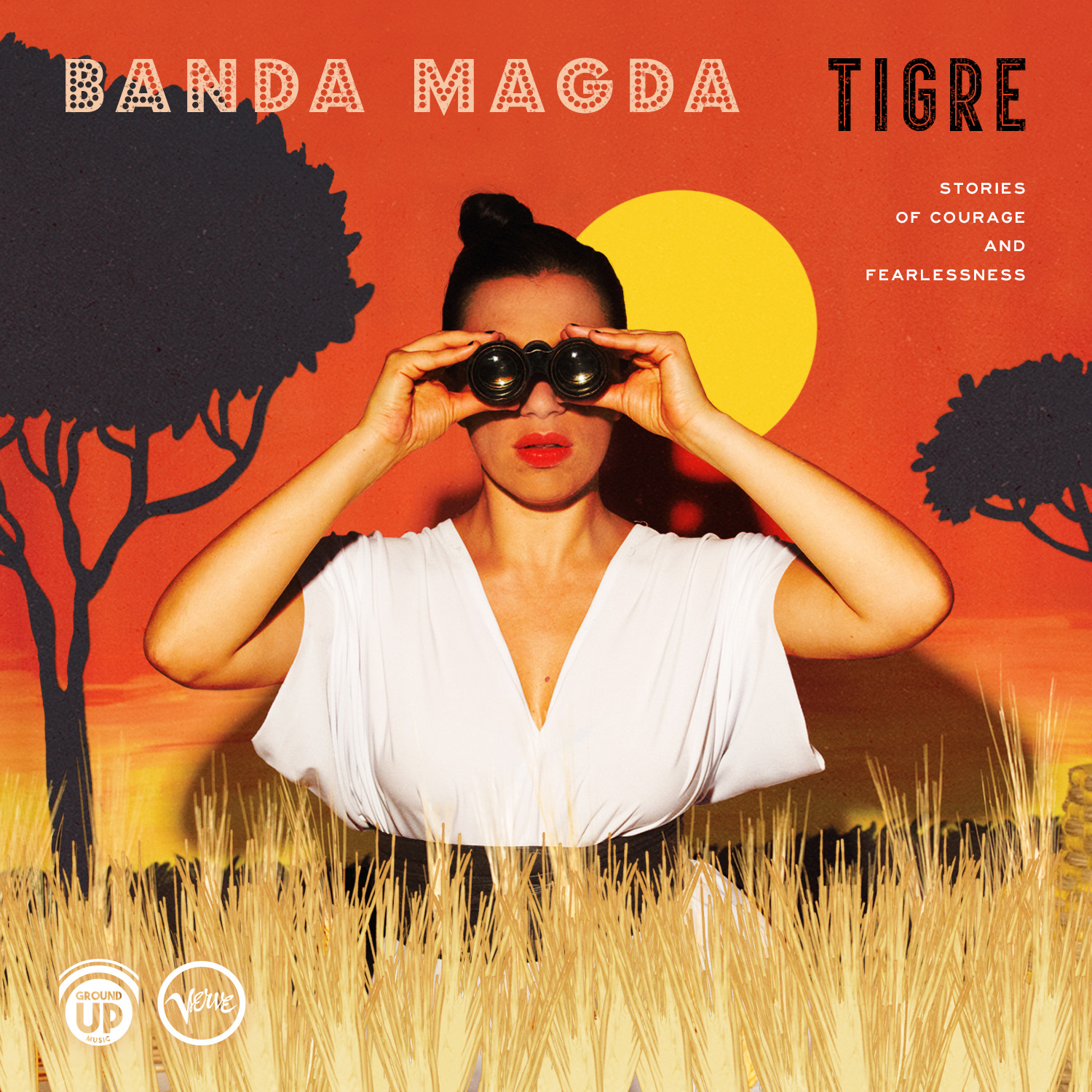 .
September 15, 2017
Tigre
(2017)
Tigre is available everywhere great music is sold.
3 Ase Me Na Bo: Overture
1:21
5 Muchacha (Ojos De Papel)
3:43
9 Le Tigre Malin: Narration
1:33
11 Le Tigre Malin: Reprise
0:39
.
September 23, 2014
Yerakina
(2014)
Buzzardly Love: Banda Magda's Devotion to Technicolor Folk Songs and Midcentury Classics Booms and Sings on Yerakina
A beautiful bird, bangles jingling, falls down a well. It's her friends who help her out. That's the tale behind the Greek folk song "Yerakina," and the spirit that animates New York's Banda Magda.
This spirit thrums on the big, vivid band's latest album. The perfect complement to 2013's Amour, t'es là? (named one of the year's best world music albums by NPR), Yerakina vibrates with the same bright, bold strokes. Now, instead of charismatic bandleader/composer Magda Giannikou's wild and wildly romantic originals, the Banda had turned to traditional and classic tunes. They are tales of love and devotion as strong as the bonds that bind the band's diverse players.
"I wanted this album to be about the band," Giannikou reflects. "I wanted my bandmates and collaborators have more freedom and initiative in the creative process. The album sprang from our friendship and love, and you can really feel that in the songs."
The camaraderie echoes in the music, as diverse rhythms and melodies from different corners of the globe cross-pollinate, giving chansons Afro-Peruvian sway or Greek folk tunes with a mad dash of Northeastern Brazilian beats. Traditional Greek rockers ("Trata", "Yerakina"), gentle but driving ballads ("El Pescador", "Petite Fleur"), samba and baião numbers incorporate everything from kitchen ware to hammered dulcimer, from full and rich horn arrangements to shimmering vibraphone, in wonderfully seamless, addictive songs.
"In many ways, Yerakina has nothing to do with music," smiles Giannikou. "It's about one hand holding the other, climbing up that deep, dark well, together, towards the sunlight."
8 Cucurrucucu Paloma
4:49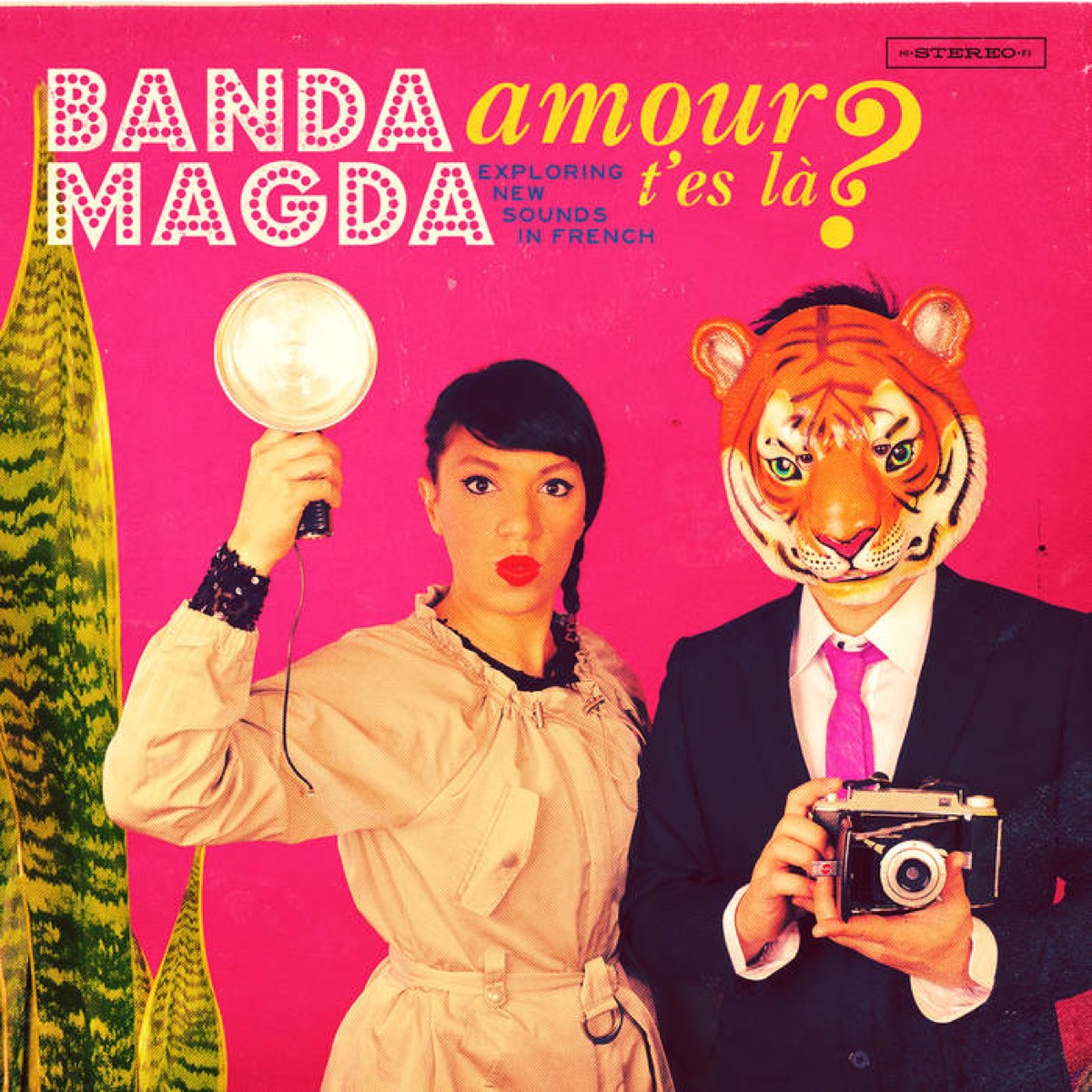 .
June 25, 2013
Amour, T'es La?
(2013)
Romance in the Sound Cinema: Banda Magda's Sunny, Dreamy, Globally Inflected Debut Poses the Eternal Question, Amour, t'es là?
Throwing caution to the wind, she jotted down a flurry of words in French. A simple, playful gesture, it eventually yielded song after cheeky, beautifully crafted song, sunny vignettes that harkened back to the golden age of Brazilian bossa, the best of cinematic arranging, and the lush chic of vintage French pop.
Sparkling with mirror-ball iridescence, Banda Magda's debut Amour, t'es là? (release: July 12th, 2013) gleams in the brightest possible palette. Its songs wink and smile with Technicolor forests and dapper love interests in tiger masks, with an entire sun-drenched world, all artfully arranged with real finesse. Led by a New York-based, Greek-born singer and composer Magda Giannikou, the band may move from samba to jazz manouche, from Greek dance rhythms to forro, playing everything from marimba to pots and pans to get just the right shade of sound.
Banda Magda bursts with humor and quirky sensibility, and unites an Esquivel-loving vibes player from Japan (Mika Mimura); an Argentinean jazz guitarist (Ignacio Hernandez), a Nagasaki-born percussionist with contemporary classical cred (Keita Ogawa); a hand drummer with every South American rhythm at his fingertips (Marcelo Woloski); a rock-solid Greek multi-instrumentalist/bassist (Petros Klampanis); and a shifting cast of as many as fifteen additional characters all led by the sweet-voiced Giannikou. Together, these close musical friends turn Giannikou's songs into engaging romps that have won them a spot with Carnegie Hall's Musical Explorers Series, as well as regular gigs at discerning NYC venues like Joe's Pub and Celebrate Brooklyn.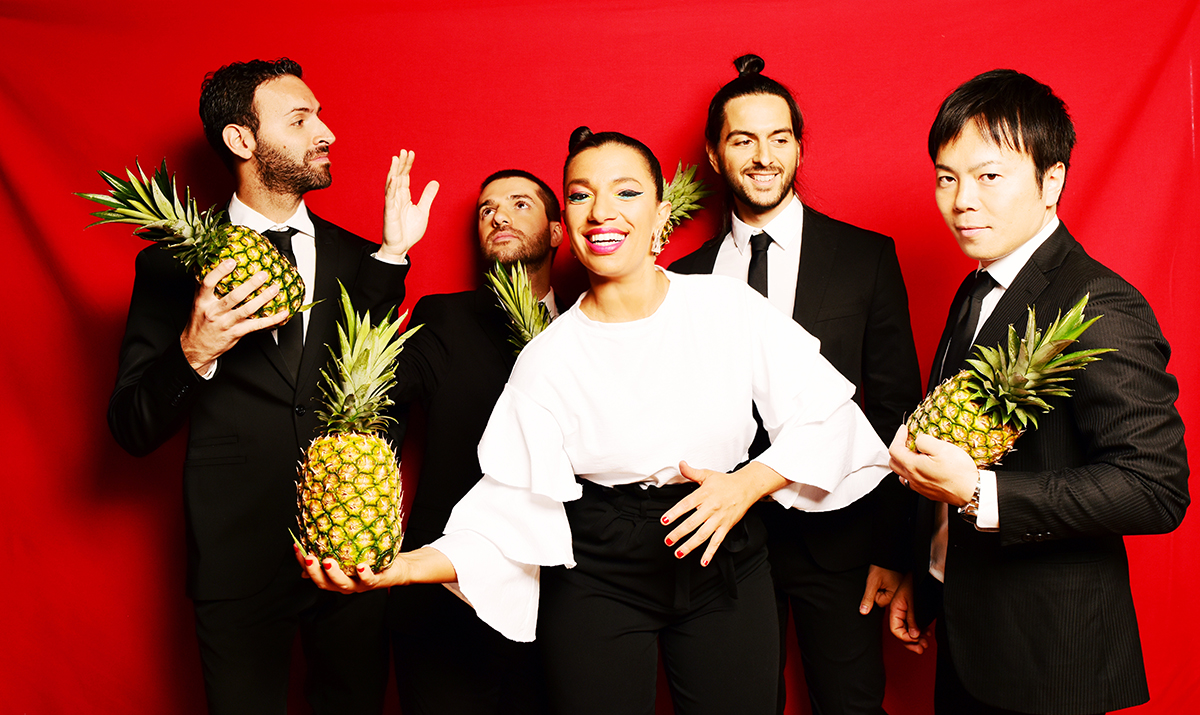 Contact